Join us at the Hard Rock Hotel in Tenerife, Spain. Hard Rock Hotel Tenerife is a completely renovated hotel located off the northwestern coast of Africa in the Atlantic Ocean, the volcanic Spanish island of Tenerife is one of the world's most fascinating destinations. Hard Rock Hotel Tenerife calls the sunny southern coast near Adeje home, and we are ready to rock your vacation when you join us for your next getaway in the Canary Islands. Our unique beachfront resort is spread across our Oasis and Nirvana towers, with three sparkling swimming pools spanning the property and recreation area.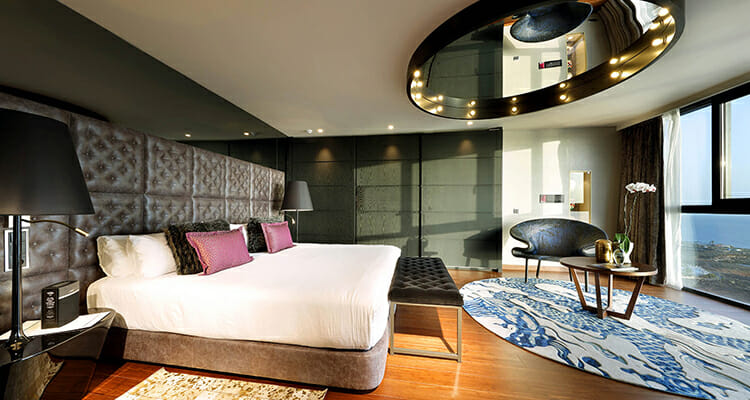 Decorated in wooden tones and high-shine black, these rooms offer a spectacular bathroom with a double sink and sensory system shower, a fabulous bedroom where you will sleep like a rock star. Choose between a king-size bed or two twin beds with 300-thread sheets and relax on its comfortable single sofa bed. In addition, they include a fantastic 43" flat-screen TV, among other technological temptations, such as a wall USB charger.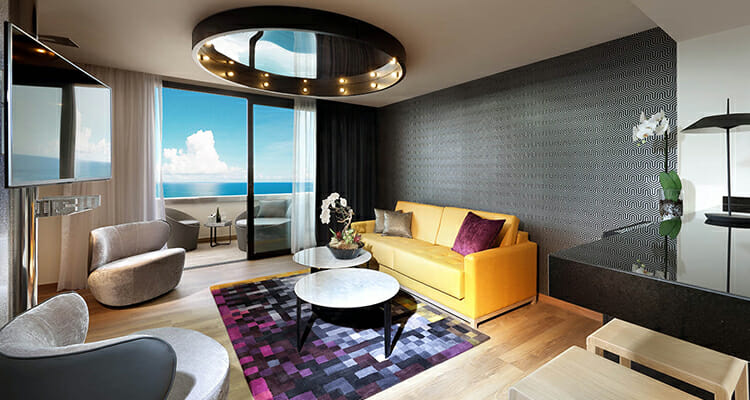 Fabulous bedroom with 300-thread sheets, spacious living room with a sofa bed and an ex-clusive bathroom with a sensory shower. It's best feature: Have a luxurious bubble bath in its spectacular whirlpool bath! Choose the views for your suite and enjoy Tenerife's incredible coastline.
Studio Suite Gold: Fabulous terrace furnished with a round bed and partial sea views.