Lake Geneva, Evian-les-Bains
Lake Geneva, Evian-les-Bains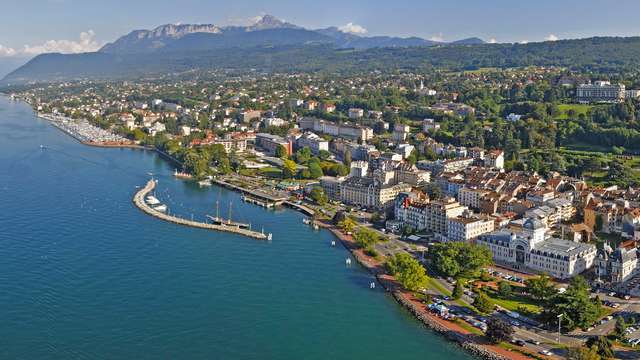 Elegantly perched on the border between France and Switzerland, Evian's internationally renowned healing waters lure health-conscious visitors from around the world. It is France's most celebrated spa resort, famed for its hydrotherapy treatments that benefit digestive and metabolic conditions.
Overlooking Lake Geneva, this polished hotel is 1 km from Evian Resort Golf Club and a 4-minute walk from the ferry terminal.
Sophisticated rooms offer flat-screen TVs, marble bathrooms and desks. Upgraded rooms add balconies with lake views. Suites have living areas. Some include kitchens and/or separate living areas. Wi-Fi is available.
There are 2 restaurants and a chic bar. Additional amenities include a fitness center, a sauna and an upscale spa, plus an indoor and an outdoor pool.